Christmas came early for me yesterday; I received my swap package from Mamarazzi's Favorite Things Swap and boy, is it awesome!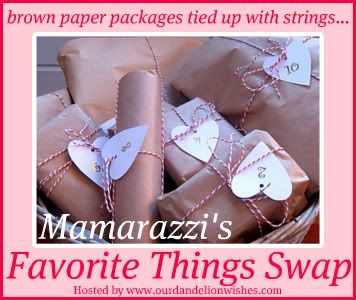 I was linked with the awesome Miss Stacie over at
Stacie and Corey
and I couldn't have been paired with a better partner! She's funny, sassy, and got me some amazing things; most which are firsts for me to ever have tried. She shipped on Saturday, (I think?) and I got it yesterday. Way to go USPS with fast shipping!!
Now on to the goodies :)
Just waiting for me to tear into it!
The hilarious card she had at the top! I love how she did the little notes for everything included! (Sorry it's hard to pick up, my camera's flash was not a good idea :()
Loved the crinkly paper!!! :)
She brought a little piece of her home town to me :) Perfect for my coffee drinking addiction :)
A handmade wool bracelet and earrings from her Etsy shop! I was hoping to get these, because I love handmade things and own no piece of jewelry like this. Way played, Stacie, well played :)
My very first Vera!!! Agh! So excited and the color are gorgeous!!!! I have wanted one for ever and so my Vera obsession begins :)
And cute Vera ponytail holders! I will be wearing these to work :) So cute!
Chocolate, the way to my heart! And Godiva? Best of the Best! Going to work with me today and I will not share :)
I have never read this book, but I am excited to! I love the included bookmark as well :)
All the pretties together! Thanks Stacie :)I LOVE everything, but really love the Vera and handmade jewelry :)
Hop over to her blog to see her post on what all I got her and to check out her Etsy store for her jewelry :)